Joint Dampers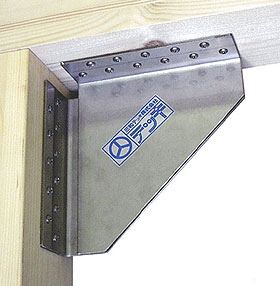 Joint dampers are vibration damping devices that are attached to the joints of wooden buildings (at the points where pillars and beams intersect). They flexibly absorb a building's vibration energy generated in the event of an earthquake, thereby reducing building deformation, and consequently, limiting earthquake damage.
Energy is mainly absorbed by the viscoelastic media (high polymer material) sandwiched between steel plates. Our breakthrough, high-tech vibration dampers have a simple structure thanks to collaboration between the steel and high polymer materials.
Features of joint dampers
Joint dampers are effective in reducing vibration caused by earthquakes or wind (vibrations are reduced by 20 to 50 percent).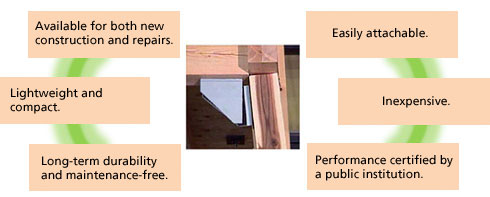 Types and structure of joint dampers
We have three types of joint damper lineup: 15, 20 and 30 cm types, any of which are selectable depending on the condition of the building in which joint dampers are to be installed.
Our joint dampers are designed to be attached at a rate of one joint damper per tsubo (approx. 3.3 m2), which serves only as a guide, such that right angle corners fit into angles formed by a pillar and beam perpendicular to each other. For a building with a total floor area of 40 tsubo, approximately 40 joint dampers are used for reinforcement.